Landscape Pavers, Retaining Walls, Hydroseeding
Hoffman Landscape offers Landscaping such as Hydroseeding, Hardscapes (Patio Pavers, Landscape Pavers, & Retaining Walls) and various plantings to Racine, Milwaukee, Kenosha & Waukesha, WI
Hydroseeding
Hydroseeding is becoming a growing trend for seeding and erosion control purposes. The federal and state regulations regarding soil erosion are becoming so much stricter that hydroseeding is the best way to control it.
Contractors, municipalities, state departments of transportation, and developers are more frequently turning to hydroseeding as a viable means of preventing erosion on their job sites.
The reasons are many: Hydroseeding is effective, providing a natural vegetative cover to keep soil in place. It is also relatively cheap. And with today's new hydroseeding machines, crews can spray seed over construction sites in record time.
Please watch the video of hydroseeding
by Hoffman Landscape.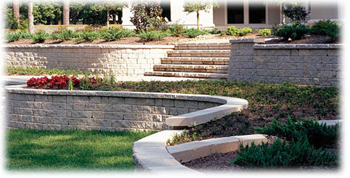 Hardscapes
Hoffman Landscape designs and builds professional hardscape spaces. Our functional patios, walks, driveways and retaining walls have enhanced the flow of our clients' landscapes. We look forward to creating a long lasting relationship with you through great design and construction. Please take a look at our
Gallery
for projects that we've completed.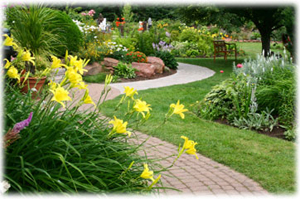 Plantings
Various plants have beautiful characteristics, usually in multiple seasons of the year. Whether it's a perennial, evegreen or shade tree, we'll always make sure that it is installed per American Nursery and Landscape Association specifications. We ensure that burlap is removed and trees are not planted too deep in the ground. All trees and shrubs always have a warranty of 12 month after initial installation.
Racine • Milwaukee • Waukesha • Kenosha • Washington County.